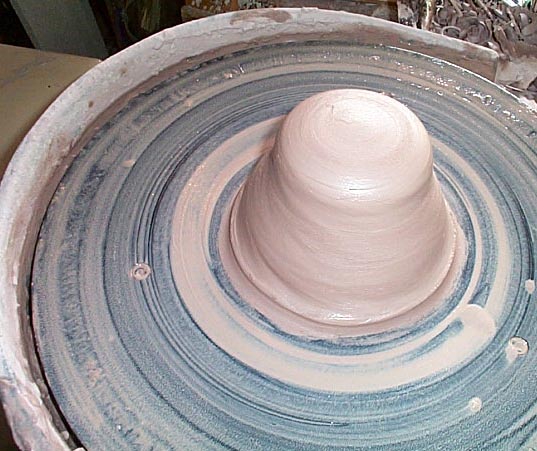 Every pot starts out as a lump of clay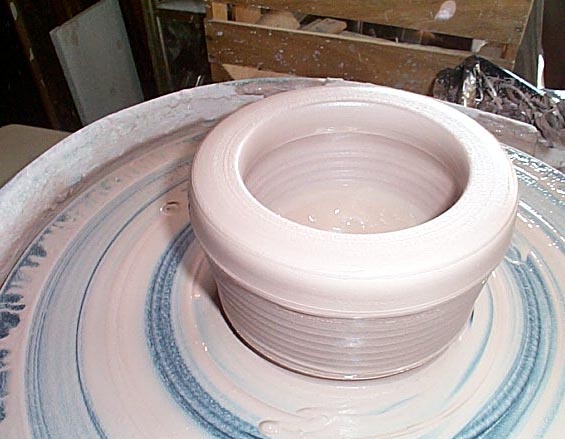 The clay has been centered and opened up to form a cylinder
The pots are made by r. e. blake a folk art painter and potter. All her pots and jugs are one of a kind originals, wheel thrown with hand built additions or totally hand built. A potter and folk art painter for over 20 years r.e.blake mixes and creates her own unique glazes.



"I was first was introduced to face jugs while in the army in South Carolina. Since I had most weekends free I would spend them prowling the country side looking for interesting arts and craft shops. The face jugs were the most interesting pottery I had ever seen, some ugly, some beautiful, some wierd but all interesting, kind of like people.
I was determined to not only own a few but to learn how to make them as well.(pots not people)

I found a potter who worked out of her home that was willing to give me lessons. Of course it was a long time before I could make a decent face jug but I was on my way.

I have since taken classes and workshops from many others and have been making pots in my own home studio for years now."

"I try and strive for that uniqueness that first attracted me to face jugs in all my pottery. I use traditional forming and throwing techniqes but try to add a little zing by using my own unique glazes in untraditional ways and and with untraditional colors. "

"I use stoneware clay, usually buff in color but I will try something new once and a while just to shake out the cobwebs in my mind.
While I make my own glazes I sometimes have been known to add a commercial glaze or two if it fits the pot. My pots seem to be enhanced by the use of more than one glaze color on them. "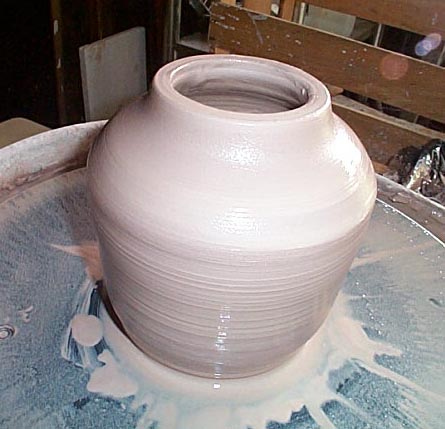 The pot has been pulled up , thinned and is ready for final the shape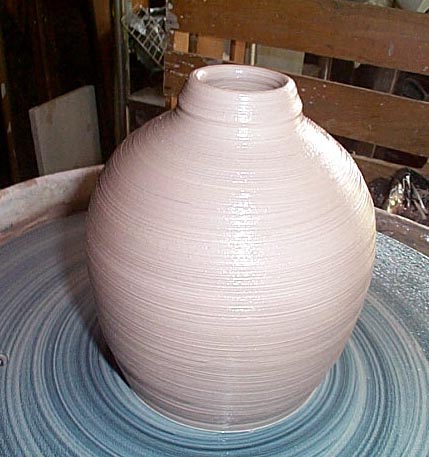 The pot has its final shape and is ready to put the face and handle on it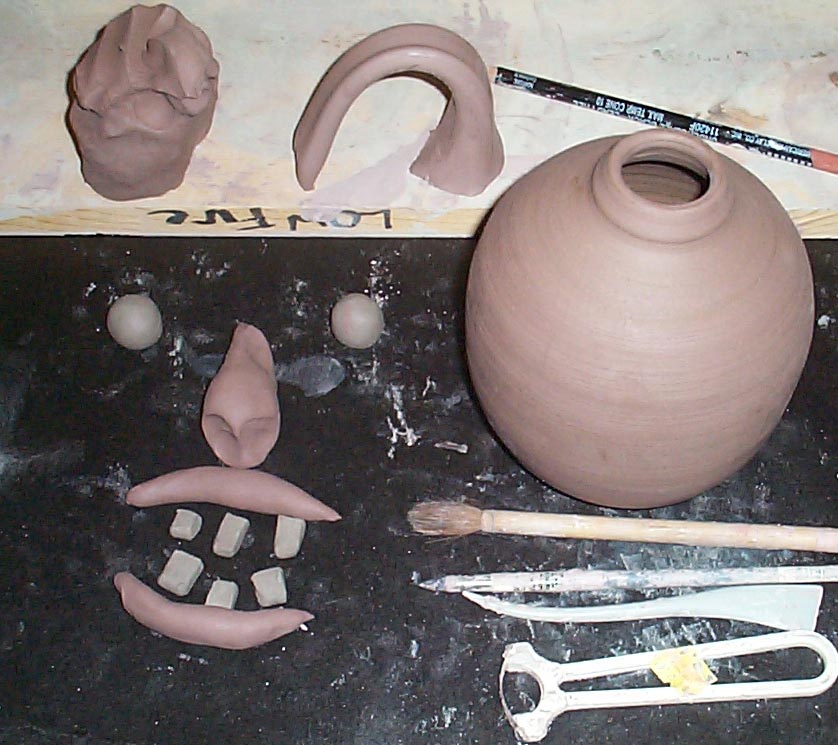 The pieces are formed and ready to apply to the pot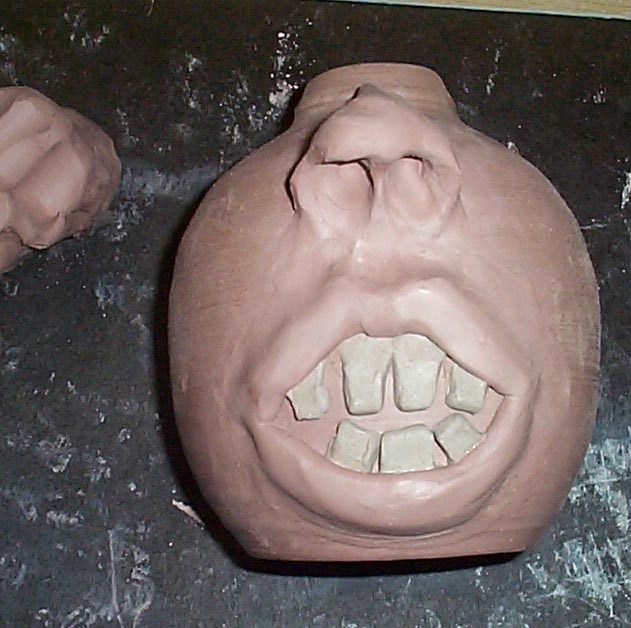 Teeth, lips and nose have been applied.
The face and handle have been applied.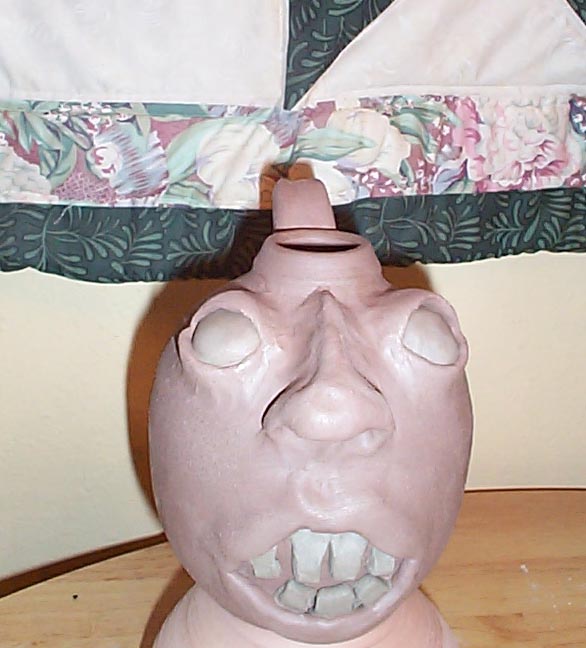 The pot will be put in the drying cupboard until dry and then it will be bisque fired.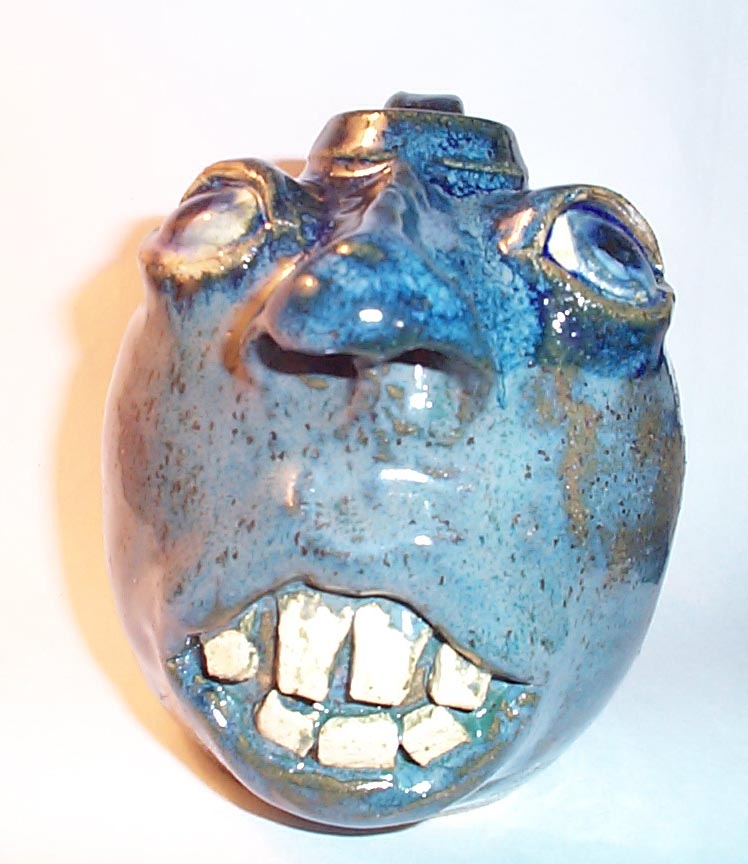 FINISHED POT
As the pictured pot develops I will add more photos to show its various stages. Watch this pot as it goes from a lump of raw clay to a finished face jug.
Every pot featured on this page will eventually be scheduled for auction. Check back each month for a new pot and photos on how it was made.(The current pot goes up for auction on July 26th)